emmanuelle alt via the sartorialist
geraldine saglio
emmanuelle alt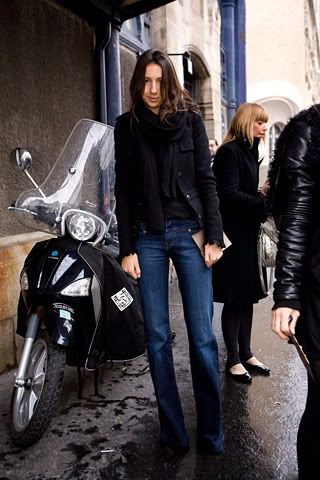 geraldine saglio
rachel bilson via elle.co.uk
punky b
i really want a pair of wide leg jeans. i'm getting a bit tired of my denim collection and feel i need something fresh. i bought a pair of the wide leg jeans from uniqlo waaay back in december and needed to hem them. now they are sitting in a box, buried in our storage locker. i really want to wear them but they would be impossible to find.
particularly for jon, above i have shown where i am trying to go with this look, not so much 'hippy'....more 'parisian chic'...
notify actea jeans $90 at shopjake
james jeans robyn jeans $113 at activeendeavors
acne jeans a-pant in lena $175 at shopjake
acne jeans l.u.v. in telephone $90 at shopjake
i tried on the acne l.u.v. jeans, but i wasn't sure on the fit because they were a size or two too big, so it's hard to tell if they would work or not...
any suggestions?