ok people. here are my new shoes i purchased wednesday night instead of waiting in line at h+m. do you like my grey nailpolish? i had a pair of marni heels on my list and originally i was going to get a pair of sandals (see below) but i think these might be more versatile (believe it or not) because i can wear them with tights in the winter time. what do we think? i was apprehensive about the colour because usually i'm a black shoe gal, but my wardrobe is also mostly black, so i thought some colour might be good? oh, and jon mentioned that i could always get the heel painted black down the road if i get sick of it... good thinking...
they are surprisingly comfortable and don't feel as super high as they look. i haven't worn them out because i have 14 days to decide if i want to keep them forever, so i'm going to think long and hard about them. i do love them though and they are works of art in my eyes.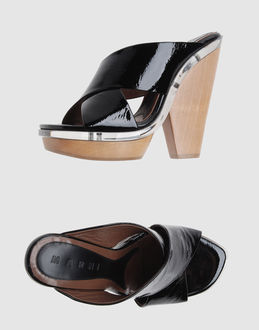 these are the sandals i was going to get. can't wear these in fall, that's for sure, but they are a bit more versatile colour-wise...